I found myself in the Dollar Tree looking at their Easter items. They have some cute carrot shaped gift bags that caught my eye. After looking at them I thought it would be fun to find a way to create some fun carrot bags.
The supplies that I'll be using are:
1. Bar mop dish towels from the Dollar Tree
2. Cream crochet ribbon
3. Surebonder fabric glue
4. Americana acrylic paint by DecoArt ( Spiced Pumpkin and Avocado)
5. Scissors
I mixed the paint with water in a bowl. You can add as much paint as you want to make the color as dark as you want.
You'll dip the towel into the paint and squeeze it out. I like to add some extra paint onto the towel giving it some darker sections here and there.
I also dipped some of the cream colored ribbon into the green paint mixture. You can lay these out in the sun to dry or find a place for them to dry inside.
You want to cut your orange towel in half being sure that the lines in the towel are horizontal as shown in photo above.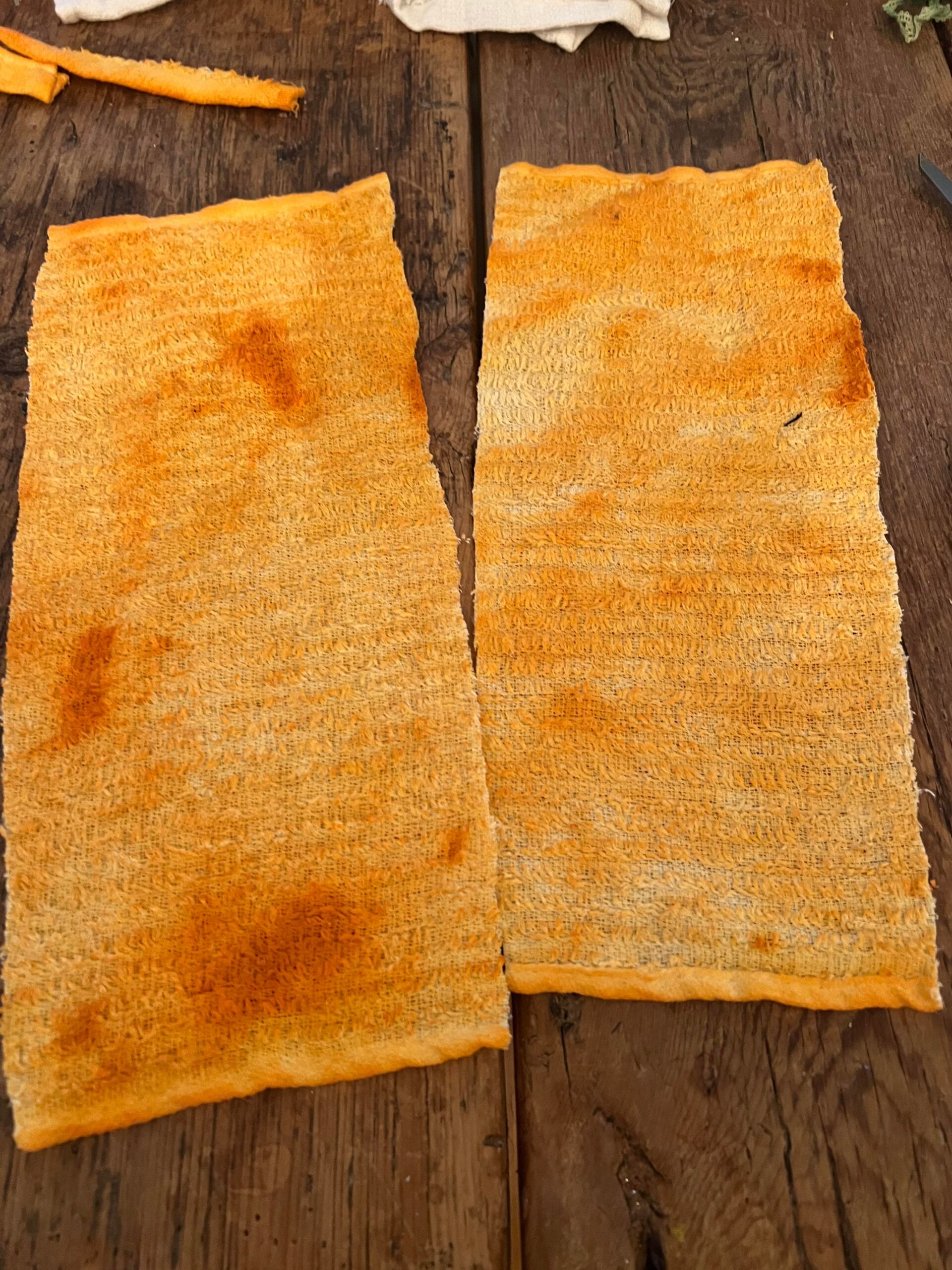 You will use one towel to make the base of the carrot bag.
The next step is to create a seam for the ribbon to slide through.
You will cut the piece of towel as long as you want your carrot to be. Take the top and fold it over to create a seam as shown in photo above. I did not measure my fold. You'll want to use the surebonder fabric glue and glue just the edge of the fold down in place. Be sure to add your strip of ribbon before you glue the edge down and be sure that your ribbon will be able to slide through the seam.
Once you have both strips of the orange towel folded with the ribbon in place you'll then add a piece of the green towel. You'll cut a piece of the green towel to fit across the top of the orange towel.
Add some of the surebonder glue to hold the green towel in place. Be sure to glue the green piece of towel to the side where you folded the orange piece over.
The next step is to glue both pieces together forming the shape of a carrot. Be sure to have both good sides facing out when glueing them together.
You'll trim the excess orange towel off giving you a carrot shape bag.
You can add any type of goodies to this bag. This is very easy to make and I hope you'll get creative and give this a try.