Ok it's Christmas time and I am seeing so many beautiful gift bags. Some of them are so pretty that I was trying to come up with a way to display them in my home. I thought they would look amazing in a frame but I like fun and unique items so I wanted to get creative. I bought 6 picture frames from the Dollar Tree and we are going to transform them to look like a window.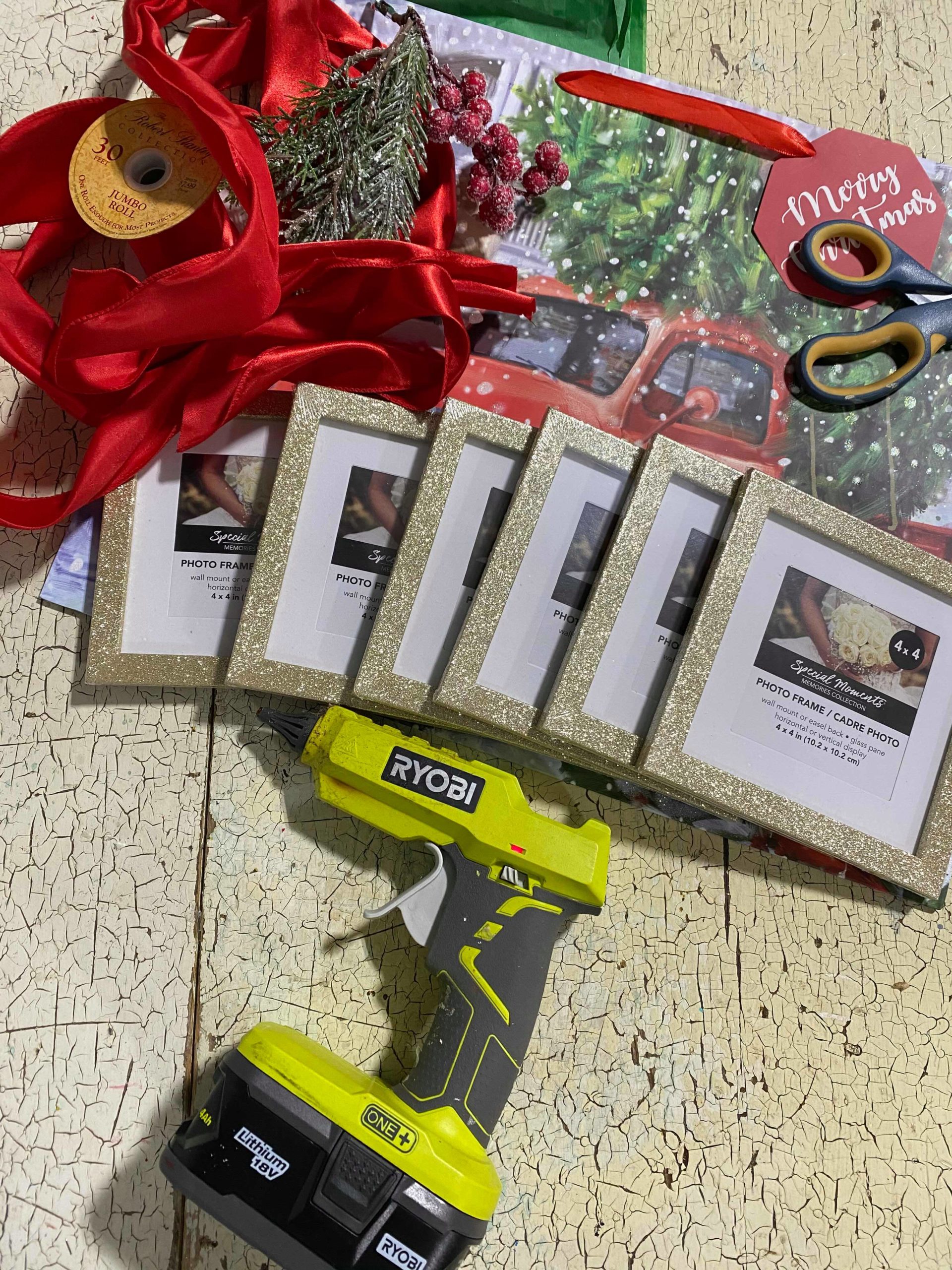 The supplies you will need are:
1. Six picture frames (I got mine from the Dollar Tree)
2. Glue gun
3. Scissors
4. Large gift bag
5. Ribbon and greenery sprig (these are optional)
I picked up six of these glittered gold 4×4 frames from the Dollar Tree. This can be done with any size frames you want.
You will take all of the backs off of your frames. I then added some hot glue around the glass so it will stay in place.
You want to make sure to secure all of the glass inserts because you will not be putting the backs of the frames back on.
I could not use the little metal slabs to hold the glass because they showed through the glass.
You will want to bend the small hooks over and down. The next step is to glue all six frames together.
I am glueing my six frames together to look like a window. You will add hot glue to the sides to secure them all together.
I then cut the front of my bag off. My bag measures a 19 x 16 and it is from Walmart.
You will add hot glue to the back of your frames. Then place you bag on top. Be sure to have your photo facing down.
I then tied a piece of red ribbon around a greenery sprig and glued it to the top corner of my frame.
I just love how this turned out and you can use any type of photo or picture behind your frames.
I hope you will get creative and give this a try. It is so easy to make and can be placed any where in your home.