I have been going through my recycling bins and I came across a glass bottle from grape juice. As soon as I saw it my mind was going. Spring is right around the corner and this bottle will work perfect for creating a light up carrot.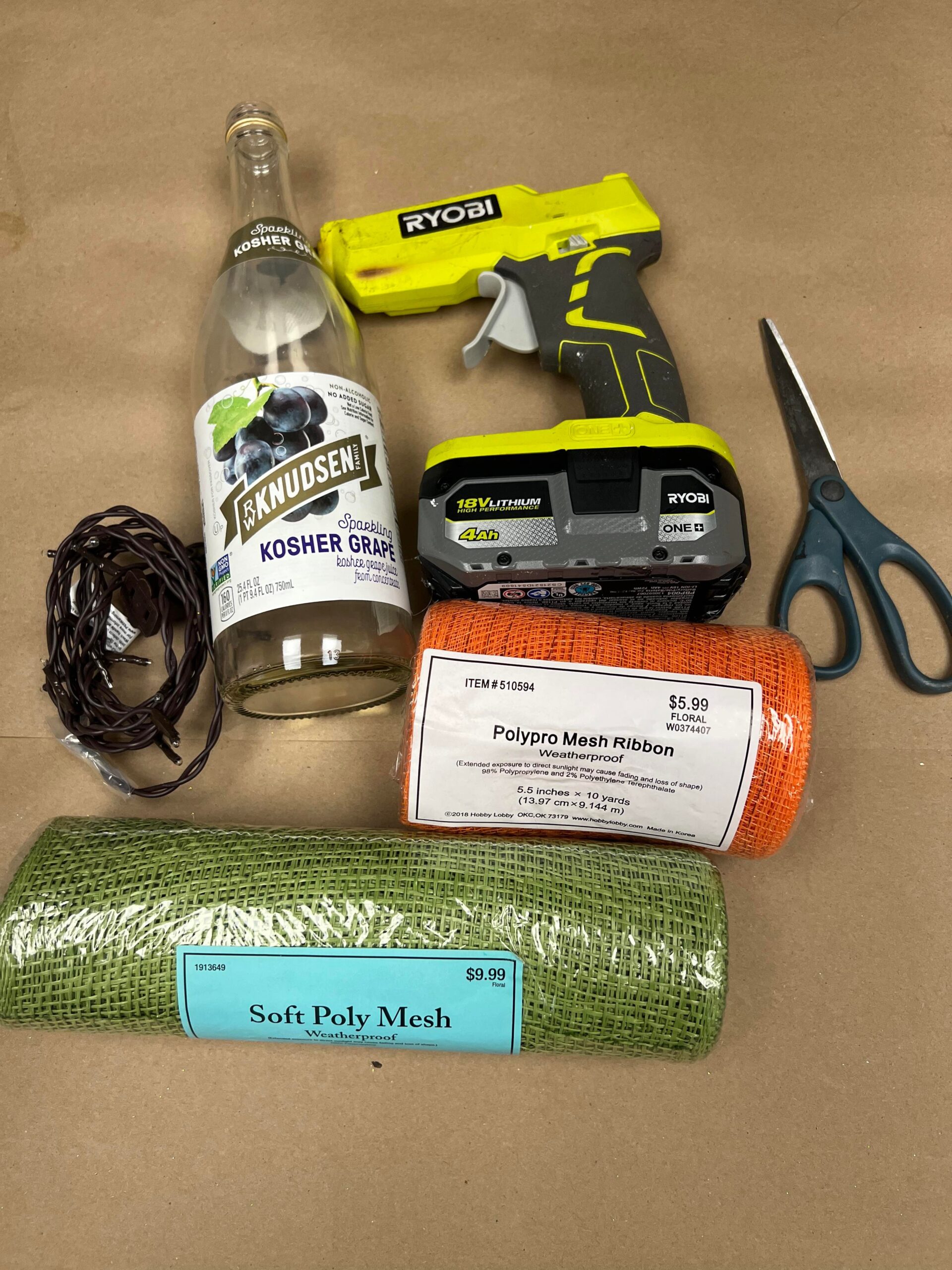 The supplies that I'll be using are:
1. One recycled 25.4 oz glass grape juice bottle
2. Hot glue
3. Scissors
4. One strand of 20 count teeny lights
5. Orange polypro mesh ribbon ( 5.5 inches x 10 yds)
6. Green soft poly mesh ribbon ( 10 inches x 6 yds)
The first step is to remove the label from the bottle.
Once the label is removed it's time to start adding the ribbon.
I'm starting with the green ribbon first.
You'll want to fold the green ribbon as shown in photo above. This will create the greenery to the carrot. You'll make the folds as long as you want your greenery to be.
I used the end piece of the greenery to wrap around the bottom of the folds and then tied a knot. This will secure your folds together and will also be the bottom piece that you'll glue to the bottle.
You'll want to add a lot of hot glue to the bottom of the bottle. Place the the knotted part of the green ribbon onto the hot glue.
You might see the green ribbon melt just a little when placed onto the hot glue. You can add some more hot glue over the edges of the ribbon.
The next step is to start wrapping the orange ribbon onto the bottle. You'll start wrapping around the base of the green ribbon.
I added hot glue as I wrapped the orange ribbon.
It's very important to twist the ribbon as you wrap it.
When you get towards the opening of the bottle you'll want to be sure to add enough hot glue to secure the ribbon in place.
I added hot glue all round the ribbon and opening edge if the bottle. You don't want to cover the opening with the ribbon.
I placed the 20 count strand of lights into the bottle. You can use any type of lights that you want to use. The lights that I'm using are from out website. You can click the link down below to check them out.
https://theshabbytreeboutique.com/shop-mBiWY/p/teeny-lights-brown-cord-20-count?rq=teeny%20lights
This was so easy to make and looks great at night. This can be used any where in your home.
I hope you'll get creative and give this fun carrot a try.