Okay everyone if you love to be outside and you love decorating your yard then this is going to be a must for you! I love decorating my yard and I love having lights everywhere. There are so many ways to add lights into your yard and garden and I think this DIY may be one of my favorite ways to add light to my yard!
I find myself in thrift stores all the time and I'm always picking up glass bowls and vases when I see them. Since I've gathered so many glass bowl and vases over time I knew I wanted to create something using solar lights and all of my glass vases and bowls. So that is what we are going to do! 
The supplies you will need for this are:
1. Glass vase
2. Glass bowl
3. Solar light
4. E6000 glue
We will be making glass solar mushrooms which are so easy to make and you're going to love them! The first thing is to decide where you're going to be putting them in your yard. They look even more amazing if you add a group of them all together. 
Once you find out where you're going to put them in your yard you will need insert your solar light into the ground. I am using solar lights that I purchased from The Dollar Tree. You will start by inserting the pole of the solar light into the ground.
You will want your light to be low and flush to the ground. This is going to allow the base of your mushroom to fully light up.
Next, you will place your vase over the solar light. You will do this by placing the open end of your vase over the solar light.
Be sure that your vase is secure in the ground and level. Now you will place a good amount of the E6000 glue to the top of your vase.
The E6000 glue is what is going to secure the glass bowl to the vase. You will now place the glass bowl onto the vase.
You want to place the opening of the bowl onto the vase which is going to form the top of your mushroom.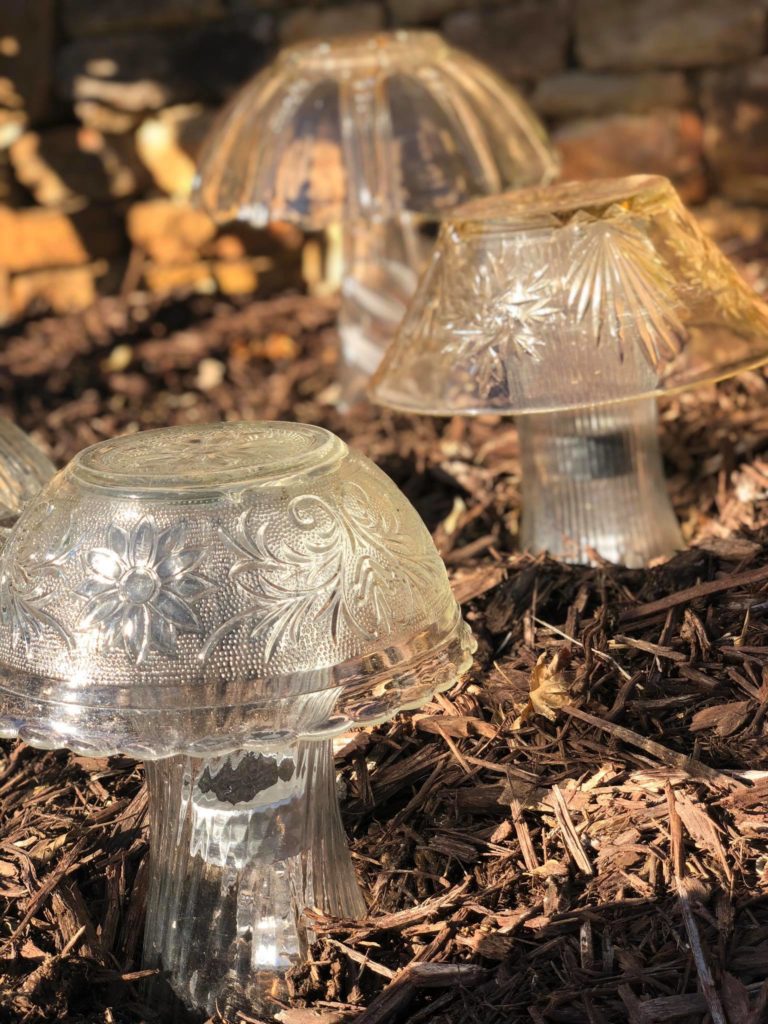 You can make these mushrooms in a variety of sizes. I like using a variety of differnt size vases and bowls to form a cluster of glass mushrooms.
These are pretty in the day but amazing at night! Once the sun goes down you will have a cluster of the most beautiful glowing mushrooms!
These are so easy to make and are an amazing decoration to add to your yard. I hope you all enjoy this DIY and give it a try!