Summer is coming and I started pulling out all of my flowers. I love placing all different types of flowers throughout my home for Spring and Summer. We've been creating a few different types of flowers here at The Shabby Tree. After going through my craft supplies I thought it would be fun to create a quick and very easy flower using wood biscuits.
The supplies that I'll be using are:
1. Wood biscuits ( I'm using #10)
2. Hot glue
3. Paint brush
4. Deep Bronze colored Texture by DecoArt
5. Americana acrylic paint by DecoArt ( Marigold and Hauser Medium Green)
6. Dark brown glitter
7. Doll type clothespin
8. Wood slice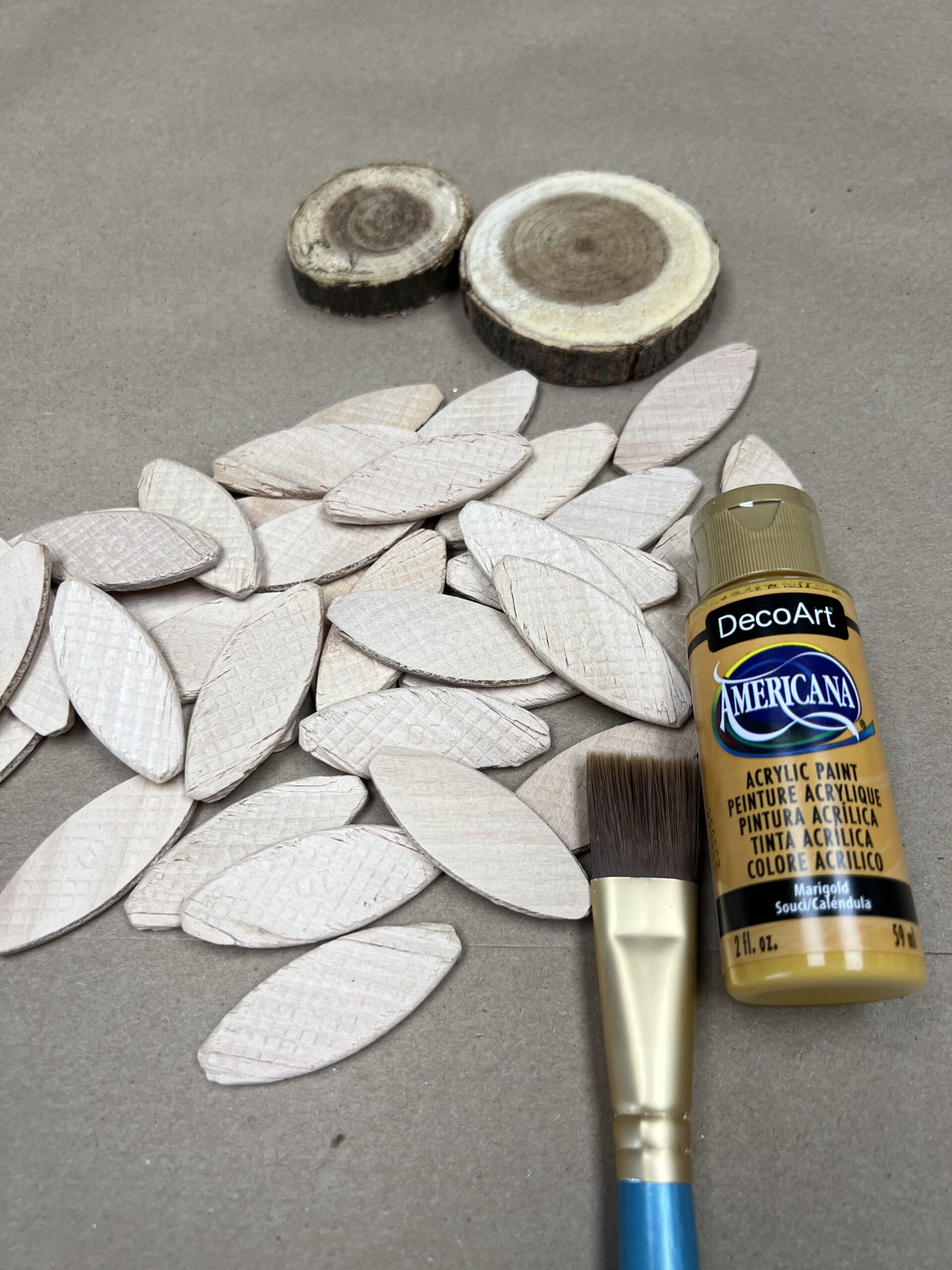 The first step is to paint a few of the wood biscuits with Marigold colored paint.
All of my wood slices are different sizes so I'm not sure how many wood biscuits I'll be using for each flower.
Once you have the wood biscuits painted you'll then paint the clothespin with the Hauser Medium Green colored paint.
The next step is to start glueing the wood biscuits to the back side of the wood slice. You can find these wood slices on Amazon or in Hobby Lobby.
You want to glue them completely around the wood slice as shown in photo above.
When you flip the flower over it should look like the photo above.
You'll flip the flower back to the back side and glue more wood biscuits in between the previous wood biscuits as shown in photo below.
The next step is to add the Texture to the top of the wood slice.
I sprinkled glitter over the Texture.
You can find the glitter that I used on 143 vinyl by clicking my referral link below.
https://www.143vinyl.com/home.php?partner=461686
The last step is to glue the clothes pin to the back side of the flower as shown in photo below.
You can find the exact wood biscuits that I ordered from Amazon by clicking my store front link down below.
https://www.amazon.com/shop/theshabbytree/list/1OVKRKXC9P5V1?ref_=aipsflist_aipsftheshabbytree
This flower is so easy to make and will look great any where in your home. I love this flower clipped to a wreath or tree for summer. I hope you'll get creative and give this fun flower a try.