Fall will be approaching soon and you'll soon see all the Fall decorations hitting the stores. When I think of Fall I think of pumpkins and sunflowers. I thought it would be fun and very easy to create some unique sunflowers using recycled toilet paper rolls.
The supplies that I'll be using are:
1. Two recycled toilet paper rolls
2. One recycled paper towel roll
3. Scissors
4. Paint brush
5. Hot glue
6. Americana acrylic paint by DecoArt ( colors Marigold and Espresso)
7. Fine brown glitter
The first step is to push down and flatten the toilet paper roll. Make a mark at every inch going across.
Use the scissors to cut four strips and each strip should be one inch wide. You'll do the same thing to the second toilet paper roll.
Once you have all 8 strips cut out you'll then cut them to the shape of a petal.
Be sure not to cut the top part at a complete point because you want your strip to stay connected together.
Once you have all 8 cut into the shape of a petal the next step is to cut the paper towel roll.
You'll want to flatten the paper towel roll and cut down the side.
Cut 4 strips and make each strip one inch wide.
You'll want to use the scissors and create small slits going down one side of the strip as shown in photo below.
Do this to all four strips and then you'll start to roll the strips together.
Add hot glue to the side of the strip as shown in photo above.
You will roll all four strips onto each other creating one large roll.
Once you have the strips all glued together you'll then paint the roll.
I'm using the Espresso colored paint and then adding the brown glitter.
You'll want to paint all eight petals next. I'm using a Marigold colored paint on my petals.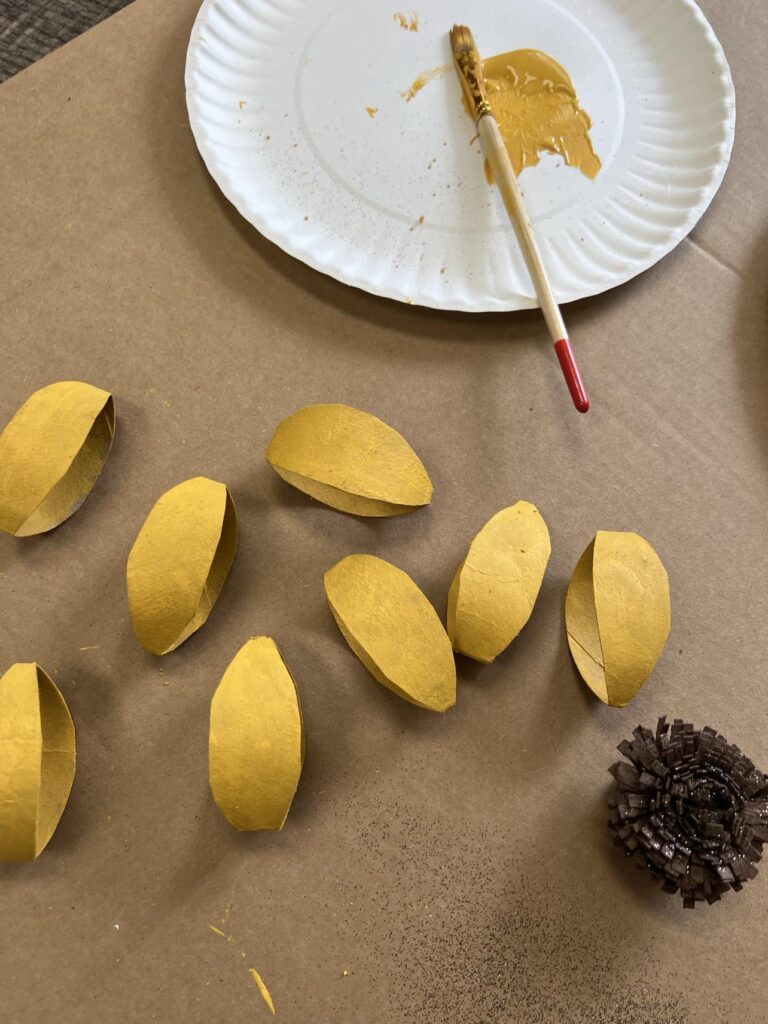 The last step is to glue all eight petals onto the center roll.
These are very easy to make and they can be added to anything. I love them added to a dough bowl or onto a wreath. I hope you'll get creative and give these a try.